The BMW G 310 R
Challenge your city
Wake up with a smile on your face. Because every day is an opportunity to try something new – with the BMW G 310 R. The complete package has everything you need and now comes with a modern daytime running light. It is an intuitive, agile ride thanks to the optimised engine with Ride by Wire and slipper clutch, whether you are off to work, to an appointment, or out of the city. Experience the manoeuvrability, easy handling, and sportiness of the G 310 R and surpass yourself with it every single day.
Highlights for dynamic riding enjoyment
The strength of the G 310 R is in its lightness and agility. The 313 ccm single-cylinder four-stroke engine not only delivers fun in the big-city tumult, but also when you are redefining the city limits when changing corners quickly.
+ Read more
25
kW (34 hp) at 9,250 rpm
28
Nm maximum torque at 7,500 rpm
3.3
litre consumption per 100 km based on he WMTC
Water-cooled single-cylinder four-stroke engine
The unconventional single-cylinder engine has a special design: The cylinder head has been rotated 180 degrees backwards, which pushes the vehicle's centre of gravity towards the front wheel. This makes the G 310 R more agile and easier to control. With the new electronic gas system – Ride by Wire – the throttle response is also always stable. And the self-reinforcing slipper clutch makes switching gears child's play when you are stuck in heavy traffic. In addition, thanks to the effective combustion and secondary air system, this bike meets the strict Euro 5 standards.
+ Read more
Choose your colour
All three finishes of the G 310 R emphasise the sportiness and energy of the machine. Which will you choose?
Good looks run in the family because the G 310 R carries the DNA of the BMW S 1000 R. With its bare design, it wears its heart on its sleeve and thus stands for lightness, precision, and a pure riding experience. The Sport style emphasises the unmistakable racing look of the bike in particular. The engine area now comes in Titanium grey metallic. It gives the G 310 R its modern finish in combination with the footrest plates and pillion passenger grips.
+ Read more
Ergonomic and safety features
Ergonomic handlebar and control elements
LED headlights and LED indicators as standard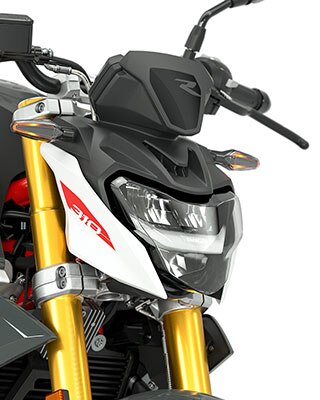 Precise single-cylinder engine
Adjustable clutch and brake levers
High-quality aluminium swing arm